RichFaces Downloads. It is highly recommended to use the latest stable releases as each release contains many bug fixes, features, and updates. Enhance your JSF web applications using powerful AJAX components Build a new RichFaces JSF project in minutes using JBoss RichFaces with JBoss Seam . JBoss RichFaces [Demetrio Filocamo] on *FREE* shipping on qualifying offers. This is a practical tutorial following the use of RichFaces in a.

| | |
| --- | --- |
| Author: | Shaktibar Dazuru |
| Country: | Republic of Macedonia |
| Language: | English (Spanish) |
| Genre: | Video |
| Published (Last): | 11 January 2010 |
| Pages: | 209 |
| PDF File Size: | 17.71 Mb |
| ePub File Size: | 12.32 Mb |
| ISBN: | 307-3-36863-918-7 |
| Downloads: | 90988 |
| Price: | Free* [*Free Regsitration Required] |
| Uploader: | Mera |
The resource data transmitted in the request must be an org. Posted by Markus Wulftange at 3: When a RichFaces 3. Richfaces datatable example Richfaces datatable example The Datatable is used to show.
Using RichFaces with JBoss AS 5.x – 6
But if you are fimilar with EL internals, you would know that they can have custom function mappers and variable mappers, which are used by the ELResolver to resolve functions i. ValueBinding is not whitelisted. First, the book introduces you to JBoss RichFaces and its components.
Although the issues RF and RF were discovered in the order of their identifier, we'll explain them in the opposite order. JBoss Tools has a plugin specific for Rich Faces. This vulnerability is a straight forward Java deserialization vulnerability.
The Application What we are going to develop?
code white | Blog: Poor RichFaces
Both vulnerabilities rely on the feature to generate images, video, jboss, and other resources on the fly based on data provided in the request. This would prevent the invocation of methods with parameters like loadClass "java.
In case of discovering a serious issue you will have to develop a patch yourself or switch to another framework. Here's the list of jhoss which need to be included in your project: This includes the contentProducer field, which is expected to be a MethodExpression object.
Also note that the issues are not public but only visible to persons responsible to resolve security issues. The Present The kind of the past vulnerabilities led to richfacws assumption that there may be a way to bypass the mitigations.
Tutorials for WildFly Application Server, Openshift, JBoss Projects and Enterprise Applications
And wrapping it in a StateHolderSaver does not work because the state object is of type Object[] and therefore the cast to Serializable[] in StateHolderSaver. Unfortunately, this gadget does not work for RichFaces. ResourceBuilderImpl allows remote code execution.
Copy and paste the following XML rihfaces your web. Depending on the EL implementation, this allows arbitrary code execution, as demonstrated by the reporter: EL exploitation is quite an interesting topic in itself. Because if one would want to create the state object, it would require the use of compatible libraries, otherwise the deserialization may fail.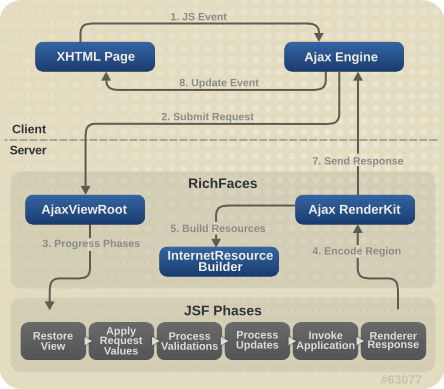 SerializableResourcewhich actually was introduced in 3. Arbitrary Java Deserialization This vulnerability is a straight forward Java deserialization vulnerability.
Documentation
Arbitrary Java Deserialization in RichFaces 3. Newer Post Older Post Home.
VariableMapperImpl were added in 4. RichFaces has three major version branches: This similarity was found in the org. Thereby, all RichFaces versions including the latest 3.
It will show you how to get the most out of JBoss RichFaces by explaining the key components and how you can use them to ricyfaces your applications.
Start Free Trial No credit card required. Richfaces In this tutorial we will. Let's divide the installation in a few steps: